SoMad is proud to present Counterweight, an exhibition featuring artworks and performances by female artists, curated by Patricia Voulgaris.
September 19 – October 2, 2020
COUNTERWEIGHT
Group Exhibition curated by Patricia Voulgaris
Elizabeth Bick, Caiti Borruso, Niki Brisnovali-Grillakis, Kamryn Friedrich, Jylene Arguello Fu, Jessica Garcia, Sabrina Giacomaggio, Amina Gingold, Ori Highbloom, Elizabeth Hibbard, Catherine McWilliams, Keren Moscovitch, Molly Rapp, Kat Shannon, Toni Smalls
A counterweight balances its opposite force - lessening the burden that places strain on those who do the work. Without the counterweight, the imbalance of mass puts strain on the system it pulls upon. With the counterbalance calibrated and positioned, the parts begin to work together to share the weight. By featuring work created by women, the weight of our choices, demands, needs, and wants begin to hold value to the people who quantify our contributions. Too emotional, too needy, too committal, too much. Enough. 
The scales have shifted and women are valuable to the perspectives that challenge our greater narratives. The works featured here compliment femininity, but more importantly, they embellish the performance of femininity to represent the challenges that women experience when we are disproportionately countered by masculinity. The male gaze instigates opposition among and within genders. Evaluative exhaustion is a symptom of the violence that erupts from our pursuit of validation and visibility - of which there is no finish line to cross. The consumption of feminine performance is for an insatiable audience. More, more, more until it is too much. The performers in this exhibition are indigestible - rebellious in their presentation - they refuse to be consumed. A counterweight levels the scales but not before a shift sends 
the pendulum swinging, jolting, and changing direction. Evoking change through togetherness enhances the performances and brings awareness to our shared human experiences; our natural variations. 
As a western culture, we are susceptible to being judged for our playfulness and entertainment value. The works featured here are for consumption but immodestly unapologetic for skirting the performance of femininity and asking neither forgiveness nor permission for being vulnerable as humans. These images are representational of violent effects on our psyches, our bodies, our performances, and our presentations. The elements of being a woman, womxn, feminine, femme, female swing from the foreground to the background of our identities. Our identities, saturated in social narratives, ebb and flow, though disjointedly, when we are complicit in allowing society to impose upon us who we are through the lenses of attraction and worldview. These works steady the rock of the pendulum from favoring the male gaze objectively to favoring our subjective selves as we want to be seen. These weights, countered by spaces we occupy, restore balance and balance is transformative. 
– Sara Rodberg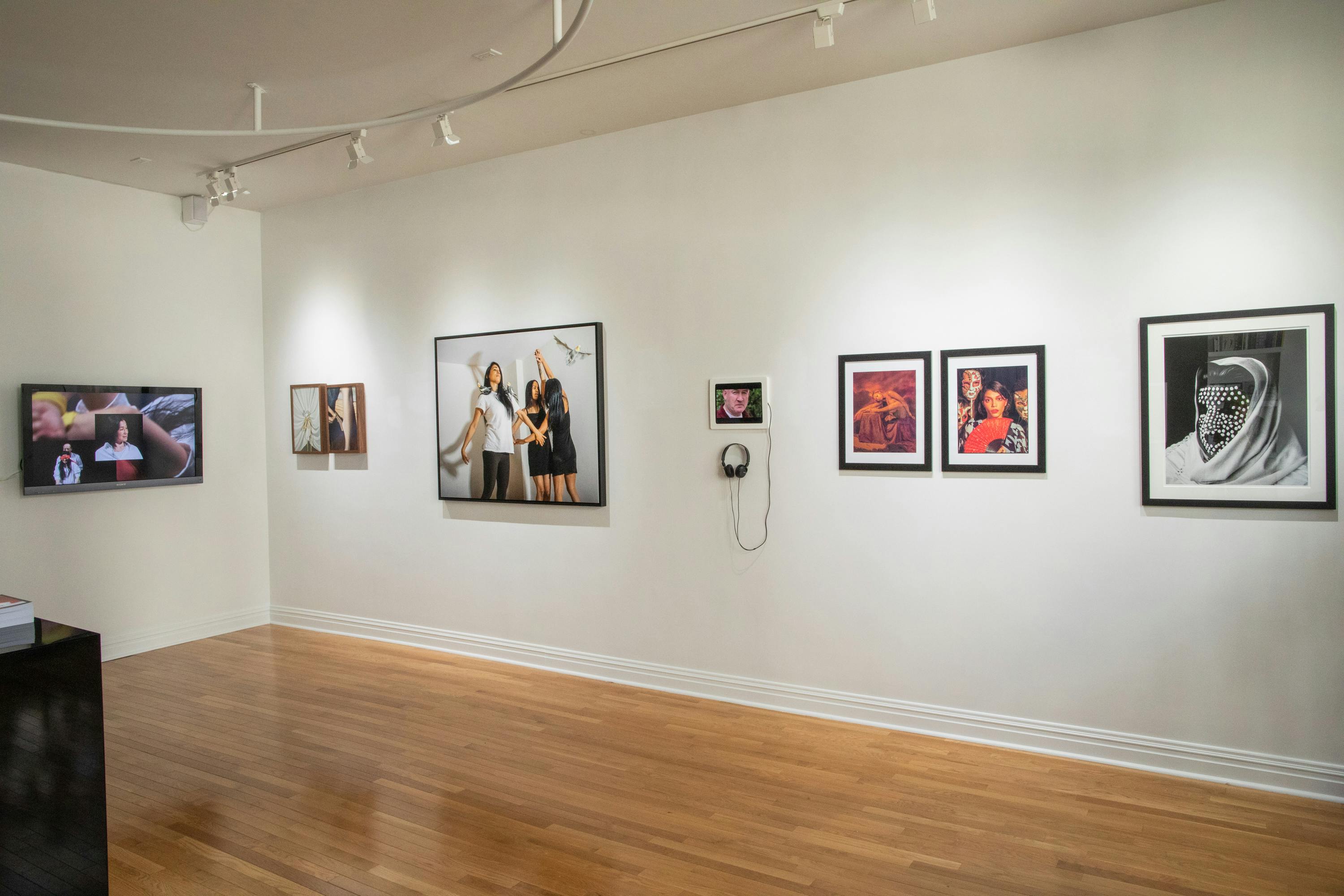 Counterweight
September 19 – October 2, 2020
Explore